Skaistė Verdingytė belongs to the middle generation of artists, she has actively been representing the Lithuanian artists' community for more than a decade. The elements of surrealistic art and theatre can be found in her works. Since technics and professionalism are of major importance in painting and visual arts in general, we can track down Andrea Mantegna's tradition in S. Verdingytė's paintings, which reached Lithuanian art through the creative work of Stasys Ušinskas. The artist has also been influenced by the representatives of the School of Ferrara, namely, Cosimo Tura, Carlo Crivelli, Giorgio de Chirico as welll as Algimantas Švėgžda, Sofija Veiverytė and other artists' oeuvres.
Skaistė Verdingytė is a member of Mural Art Department of Lithuanian Artists' Association. Since 2006, she has participated in the 'Slaptųjų piešėjų draugija' (Secret Draftsmans' Society - drawing human figure from life studio) of Lithuanian Artists' Association activities.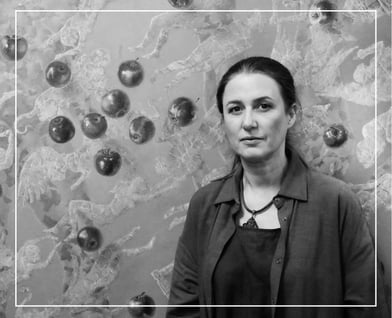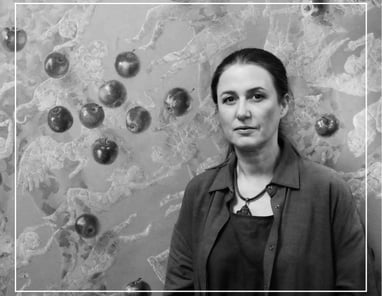 2021 m. – 'The Awakening', 'Fojė' gallery, Trakai
2009 m. – 'Diaries', 'Arka' gallery, Vilnius
2008 m. – 'Fayoum', St. John's street gallery, Vilnius
2008 m. – 'ZTVA', St. John's street gallery, Vilnius
International exhibitions and residencies: Austria, Egypt, Macedonia, France, Turkey.
2022 m. – 'The Tenth Drawing Exhibition', Secret Draftsmans' Society, Vilnius
2022 m. – 'Figura Metaphisica', Užutrakis manor
2022 m. – 'Centuries of Present', 'Fojė' gallery, Trakai
2022 m. – 'Salve Vilnius', Energy and Technical museum, Vilnius
2021 m. – 'Résistance', Paul Conti gallery, France
2021 m. – 'Figura Metaphisica', Užutrakis manor
2021 m. – Portrait-Study exhibition 'Portrait mania', Vilnius
2021 m. – Secret Draftsmans' Society's exhibition, Mažeikiai
2021 m. – 'The Ninth Drawing Exhibition', Secret Draftsmans' Society, Vilnius
2020 m. – 'Salve Vilnius', Trakų Vokė manor
2020 m. – 'FIGURE 2020 Drawing / Creation', Vilnius
2020 m. – virtual exhibition: 'Eros' Dream. Sketches of Soft Erotica', Trakų vokė
2019 m. – '100 percent of Nude', Vilnius
2019 m. – Secret Draftmans' Society's exhibition, Kaunas
2017 m. – 'Drawing ++', Secret Draftmans' Society, Vilnius
2017 m. – 'Nudes', Secret Draftmans' Society, Vilnius
2016 m. – Osten Biennial of Drawing, Skopje, Macedonia
2015 m. – National drawing exhibition 'Through Form to Content', Vilnius
2012 m. – National drawing exhibition, 'Arka' gallery, Vilnius
2011 m. – 'About That', exhibition of women painters, Vilnius townhall
2011 – 2018 m. – Secret Draftmans' Society's exhibition at LDS gallery Vokiečių g. 2, Vilnius
2008 m. – Exhibition in Salzburg's international summer academy of fine arts gallery, Hallein, Austria
2008 m. – Exhibition in the Fayoum art center, Fayoum, Egypt
2007 m. – Exhibition in the Hohensalzburg fortress, Salzburg, Austria